---
Intelligent Skin Replenishment
FREE SHIPPING on orders $25+ within the US*
Collagen & hyaluronic acid benefits

Protects against harsh environmental factors*

Anti-aging properties*

Shields against damaging blue light*
Skin health, re-imagined™
SmarterSkin™ is a plant-based, vegan-friendly beauty blend that nourishes your skin from the inside-out. It helps increase protection from the adverse effects of sunlight, oxidative stress, and dryness while maintaining your skin hydration and elasticity. Smarter skincare means nourishing your skin from within and replenishing it with natural ingredients that give your skin that coveted glow.
Formulated for maximum effectiveness
Polypodium leucotomos gives your sunscreen a boost to help maintain your skin's natural ability to protect against sun exposure & aging*
Astrion™ works to refresh and hydrate your skin by nourishing the layers of your skin from within and provide hydrating nutrients - leading to a more radiant and supple skin appearance.
Verbasnol™ protects your skin at the cellular level and ward off harmful free radicals with super potent antioxidants.*
FloraGLO® protects your eyes and skin from damaging blue light while protecting the skin from adverse effects of sunlight through the power of Lutein.*
Ingredients: Polypodium leucotomos extract, Astrion™, Verbasnol™ (Rehmannia glutinosa extract), FloraGLO® (marigold flower extract), 100% plant-based capsule
Storage Information: Store in a cool, dry place.
How to Use: Take two (2) capsules daily with food & water. Do not exceed 10 capsules per day.
Manufactured in Sunny SoCal
---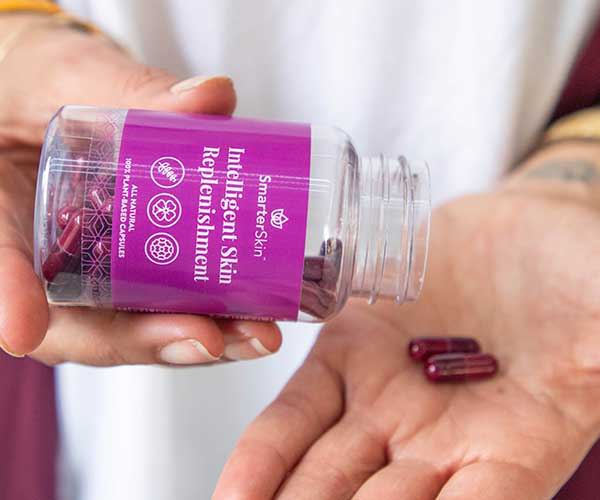 ---
We spent countless hours researching which ingredients would make our internal skincare supplement great! Uncover the secrets behind SmarterSkin™ and how it combats aging skin from within.
---
---
---