---
FREE SHIPPING on orders $25+ within the US*
Promotes healthy skin

Helps to balance your mood

Rejuvenates energy

Promotes memory function*
Support overall health
Gotu kola, also known as Centella asiatica, is a great source of vitamins, minerals, and what makes this herb so beneficial to your health. Their main nutritional benefits stem from antioxidants and other chemical compounds called asiaticosides that works to facilitate tissue repair.
Balance your mood
Gotu kola has a history of use as an herbal tonic for mood disorders and enhanced memory. Some studies have found that gotu kola may indirectly affect memory by increasing alertness and lowering feelings of stress. The sense of calmness and alertness could translate to better concentration and lead to better memory.
Skin care solutions
Gotu kola has been used by the skincare industry for ages for its ability to stimulate collagen production and for its "wound healing" potential. Gotu kola replenishes the skin and body with phytonutrients and proteins that may help promote beauty from within.
Ingredients: Gotu kola extract, 100% plant-based capsule
Storage Information: Store in a cool, dry place.
How to Use: Take one (1) capsule daily with food & water. Do not exceed 6 capsules per day.
Gluten-Free | Vegan
Manufactured in Sunny SoCal
---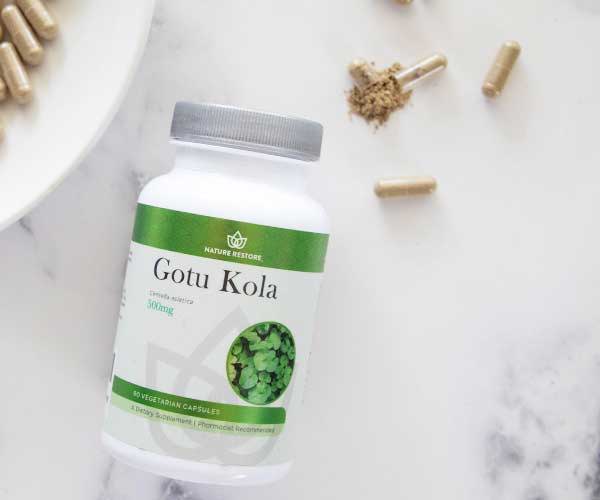 ---
Looking for more information? We broke down our top two benefits on Gotu Kola on our blog: Skin health and Mental health.
---
---