---
For Healthy and Strong Bones
FREE SHIPPING on orders $25+ within the US*
Supports bone health*

Aids in fortifying bone composition*

All-natural & plant-based

Pharmacist reviewed & approved
---
What is BoneBoost™?
As we age, our ability to build and generate new bone tissue diminishes. Essentially, your body is moving old bone tissue but not replacing it fast enough. BoneBoost™ is our patented synergistic blend intended to support bone health.
BoneBoost™ is formulated to nourish bones and boost their strength. It is a slow process, but most people begin to see results within 3-6 months.
Plant-based formulation
Our BoneBoost™ proprietary blend was formulated using natural herbal extracts. We also included key vitamins and minerals to further support bone health like Vitamin D, zinc, manganese, calcium, and copper. Our propriety blend have shown promise in studies to help improve bone formation and counteract aging bones.
Ingredients: Vitamin D3, Vitamin K2, Calcium cirtate, Magnesium citrate, Zinc, Copper, Manganese, Boron, Proprietary BoneBoost™ blend (Cuscuta chinensis seed extract, Epimedium aerial powder, and Polygonum cuspidatum root powder), Microcrystalline cellulose, 100% plant-based capsule
Storage Information: Store in a cool, dry place.
How to Use: Take three (3) capsules daily with food & water. Do not exceed 12 capsules per day.
Gluten-Free
Manufactured in Sunny SoCal
---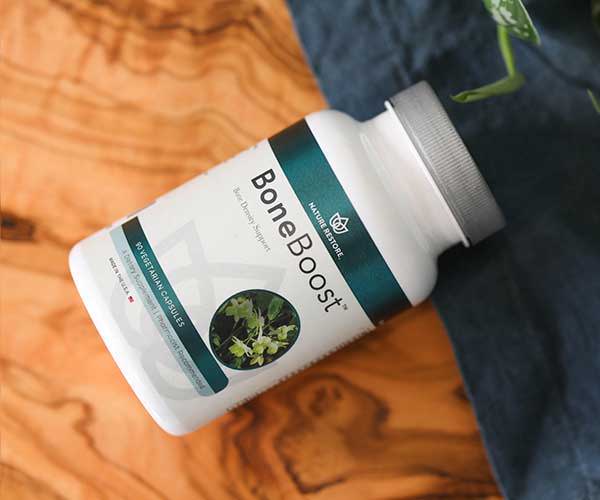 ---
Bone health is something we should all be aware of. Click here for everything you need to know about bone health and what you can do to maintain it for yourself.
---
---