---
The Immune-Boosting Superhero
FREE SHIPPING on orders $25+ within the US*
Works to support a healthy immune response*

High levels of beta-glucan

Full of functional mushroom power

High in antioxidants
Beta-glucan power
Beta-glucans have been extensively studied for their immune-supporting properties, We have done our research and found the best beta-glucans on the market (Glucan 300® & Yestimun®) and combined them with our favorite functional mushrooms Turkey Tail, Lion's Mane, and Agaricus. These mushrooms are high in naturally occurring glucans and each holds a wide range of other health-supporting properties.
Antioxidant Power
While glucans and mushrooms are the main focus of this product, we also understand the importance of quality antioxidants and Vitamin C when it comes to supporting natural defenses. We included RosaEx™ to pack a super dose of Vitamin C and fight accumulated free radicals that are created from our bodies metabolism.
Ingredients: Turkey Tail (fruiting body), Lion's Mane (fruiting body), Agaricus Blazei Murill (fruiting body), RosaEx™, Glucan 300® (Beta 1, 3 D Glucan), Yestimun® (Beta 1, 3 D Glucan), microcrystalline cellulose, 100% plant-based capsule
Storage Information: Store in a cool, dry place.
How to Use: Take three (3) capsules one to two (1-2) times per day with food & water. Do not exceed 12 capsules per day.
Gluten-Free | Vegan
Manufactured in Sunny SoCal
---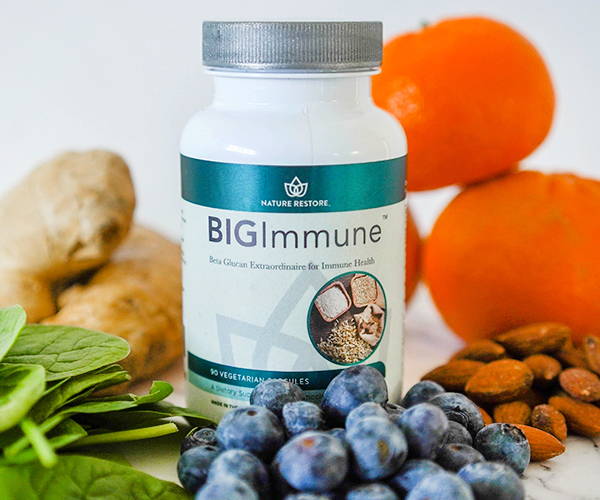 ---
Still wondering what beta-glucans are or how they work? All your questions answered in our BIGImmune™ breakdown.
---
---