Easter is right around the corner, but sources tell us that the Easter Bunny is stopping  by early to drop off some surprises!
Get 1 FREE BOTTLE of Gotu Kola with every purchase
*Restrictions apply*
He also left some yummy recipes that are fun for all ages!
Gluten Free Strawberry Rice Treat
Rice Treat How To:
On low to medium heat, melt marshmallows and butter.

2.After melted, add in vanilla, crispy rice cereal and strawberry powder. *Add strawberry powder as needed for taste and color.* Coat evenly then let cool.

After cooling, begin shaping them into eggs, or even bunnies! Enjoy!
Photo by Tea Jenny
Lemon Lavender Cookies
Cookie How To:
In a bowl, combine almond flour, salt, baking soda, and Nature Restore Lavender. In another bowl, mix grapeseed oil, agave nectar and lemon zest. Once you have mixed them separately, you can mix both bowls together.

Once you get the doughy consistency, lay parchment paper on cookie sheet, roll ½ balls and press down to flatten on parchment.

Bake for approximately 8-10 minutes. *Be sure to check on them as ovens differ.* Let cool and enjoy!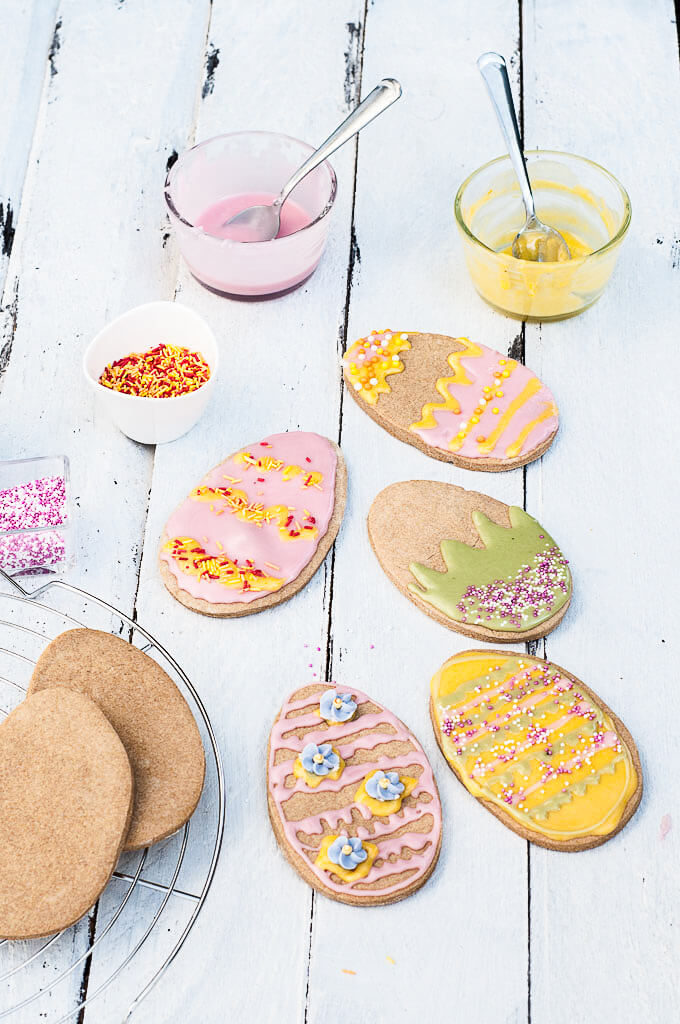 Photo by Vanessa Croessmann
Vegan Easter Egg Sugar Cookie
Cookie Ingredients/Tools:
Icing Ingredients:
Cookie How To:
Mix flour, Nature Restore Stevia and salt together. Once mixed evenly, add butter and water and knead until you get that doughy consistency.

Wrap the dough in clear wrap and let it chill in the refrigerator for at least 1 hour.

After chilling, put flour on your preparation area, roll out the dough and cut out egg shapes with cookie cutter.

Use parchment paper on cookie sheet and preheat the oven to 400 degrees Fahrenheit. Bake for approximately 8-10 minutes. *Be sure to keep an eye on it as ovens differ.*
Icing How To:
Mix together powdered sugar and water until you get desired consistency then add a pinch(s) of Red Beet, Turmeric, or Acai for coloring. *No exact measurements have been added to make as much or as little as you would like. The thing to remember is the consistency*

Start decorating cookies!

Allow time for the icing to dry then enjoy!
Recipe by Veganfamilyrecipes